Belter Radio`s Country Belles Radio Show.
Listen Back to latest show available on demand as a
Mixcloud Podcast
.
Playing the best in Female Country music.
As the name suggests
Country Belles
is one of the very few country music shows that exists playing
FEMALE ONLY tracks
, not a guy in site apart from the presenter!
Maybe it's a reaction to the male dominated America Country Airplay charts over the last 5 years and more?!
When Graham Barnes was persuaded to join Belter Radio as a DJ he decided to make the format of his country show different to an existing one - "It was about this time when there was all that talk about female artists not getting airplay so as I actually prefer female artists anyway regardless of genre I thought OK I will play the girls"! he shared and confirms with Country Routes!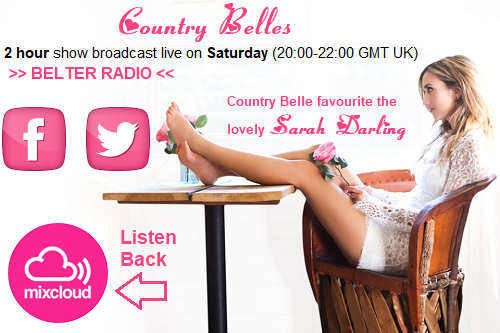 Host: Graham Barnes
From: Torbay
is a
borough
in Devon, England, UK
The 2-hour weekly show plays mostly Independent artistes a mix of mostly new tracks from around the world with some of the latest releases from America, Canada, UK, Australia, and Europe.
Hour 1 includes a

Country Routes Song Of The Week

and Artist of the Week features.
Hour 2 normally includes a pre-recorded Skype artist Interview
The show, two hour show is broadcast live on Saturday 8-10pm (20:00-22:00 GMT UK Time)
on Internet Station
Belter Radio
("Because every hit..counts!)

which can be streamed directly on the website, on your PC media player (Windows, Real Player, Winamp) or on a mobile device using the TuneIn APP.
Listen LIVE to Belter Radio Here:
Find the radio station using your Smart Device
AMAZON ECHO
: "Alexa, play Belter Radio on TuneIn"
Google Home Hands-Free Smart Speaker
: "Google, play Belter Radio on TuneIn
Official Mixcloud Free iPhone App
Download the free app for your iPhone or iPad and take Mixcloud on the go. Featured by Apple. -
Store Link
This app is designed for both iPhone and iPad
Official Mixcloud Free Android App
Have an Android device? Get the free Mixcloud app and enjoy the world's best DJs & presenters in your pocket.
Google Store
CONTACT
: Send Graham your feedback on the shows and if you're an artist please
contact
him by email for music submissions and arranging interviews at
graham_barnes1@sky.com
CONNECT
with Graham Barnes:
They are a group of friends who interact with each other over the Internet.
You can use their website to chat and listen to radio.
Music Presenters and Quiz Presenters are currently from all over Europe. Pop in and see what they are about.
CONNECT
with Belter Radio:
Country Belles Saturday 12 May 2018
Carrie Underwood
– Don't Forget To Remember Me (Some Hearts-15 Nov 2005)
CATCH UP
Country Belles Saturday 27th January 2018
Erin Mc
A
ndrew
Interview
CATCH UP
CATCH UP
Country Belles Saturday 13th January 2018
CATCH UP
Country Belles Saturday 6th January 2018